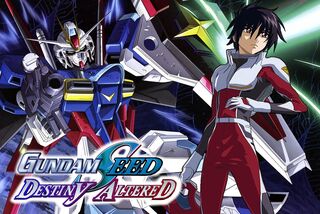 THIS WIKI IS NOT FOR THE ANIME GUNDAM SEED DESTINY
IT IS FOR A FAN-WRITTEN ALTERNATE VERSION OF THE STORY - SEE BELOW.
If you're looking for information on the anime, go to the Gundam Wiki .
Welcome to the Gundam Seed Destiny: Altered Wiki
This Wiki is intended to be a general information portal for my current Gundam Seed Destiny fanfic/rewrite project, Gundam Seed: Destiny Altered, as well as its prologue, An Alternate Fate. It will include information on the characters, ships, mecha, and anything else I think of to put here. Obviously, some of the content here is going to be different from canon - it's supposed to be, so please don't change it!
Feel free to have a look around, enjoy. And if you haven't read it yet, please do so - it's on Fanfiction.net, links above - and leave a review!
Of course, Gundam Seed Destiny and all associated trademarks are property of Bandai/Sunrise.
Also, we're on TV TROPES now too.
For more information, click one of the links below:
A list of all the mobile suits and mobile armors to appear in the story. The most up-to-date article currently, with links to the profiles of the major new units to appear in the story so far.
A list of the various warships and vehicles, civilian or military, to appear in the story. Articles for the major ones to be added later.
A list of the various characters to appear in the story. Articles for the major ones to be added later.
A list of the different factions within the Cosmic Era
Ad blocker interference detected!
Wikia is a free-to-use site that makes money from advertising. We have a modified experience for viewers using ad blockers

Wikia is not accessible if you've made further modifications. Remove the custom ad blocker rule(s) and the page will load as expected.